Portraits in Oversight:

Rep. Elijah E. Cummings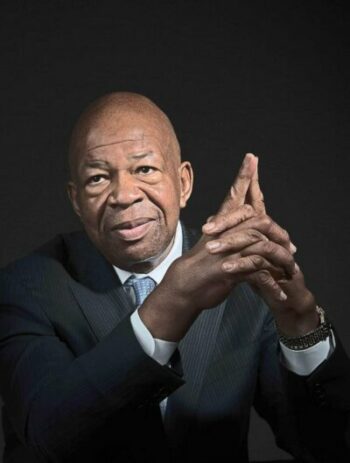 For 23 years, Elijah E. Cummings, the son of sharecroppers, represented Maryland's 7th district in the U.S. House of Representatives. Elected in 1996, he served on the Committee on Oversight and Government Reform from his earliest days in Congress until his death in 2019, becoming its Ranking Minority Member in December 2010 and Committee Chair in his last year.
During his committee tenure, Rep. Cummings participated in a wide range of high-profile investigations, from inquiries into high-priced prescription drugs that put health care out of reach for average families, to the attack on the U.S. embassy in Benghazi, to the separation of families at the U.S. border.
Letters and public statements related to this investigation were issued jointly by the relevant Republican chair and Ranking Member Cummings. The committee's work triggered numerous Secret Service reforms, strengthening U.S. security. In addition, Congress enacted bipartisan legislation in response to the committee's findings, including a Cummings bill to ensure agents working overtime during presidential elections received appropriate compensation.
Rep. Cummings served as Oversight Committee Chair for less than a year.  Although this gave him only a short time to initiate formal investigations, he opened multiple inquiries. In February 2019, for example, he opened an inquiry into U.S. actions separating children from their families at the U.S. border, which he viewed as a bipartisan issue. As he explained at a hearing:
Eight months earlier, conservative Republican Representative Mark Meadows joined Rep. Cummings in sending a letter to the Departments of Homeland Security, Health and Human Services, and Justice requesting documentation on every child separated from their family at the border. When none of the departments produced the requested documents, the records became the subject of Rep. Cummings' first subpoenas as Oversight Committee Chair. The subpoenas were authorized by a vote that included not only the Democratic members of the committee, but also Republican Representatives Chip Roy of Texas and Justin Amash of Michigan.  In his final official act as committee chair, Rep. Cummings signed those subpoenas from his hospital bed, compelling agencies to comply with the committee's requests for information.
In a 2012 investigation into Operation Fast and Furious, a U.S. government operation which he had condemned for allowing sales of illegal guns, Rep. Cummings nevertheless sent a stinging letter to the Republican committee chair for leaking to the press a 48-page draft contempt citation aimed at Attorney General Eric Holder without first sharing that draft with committee members:
His objections reinforced the value he placed on bipartisan oversight.
Rep. Cummings' oversight efforts did not stop with the Oversight Committee. For 23 years, he was also a member of the Committee on Transportation and Infrastructure where he served on the Subcommittee on Coast Guard and Maritime Transportation, chairing that subcommittee from 2007 to 2011. Under his leadership, the subcommittee launched multiple oversight inquiries, including an extensive investigation into a Coast Guard modernization program known as "Deepwater."
Although the Coast Guard committed to cleaning up the modernization program, members on both sides of the aisle who'd worked on the investigation agreed legislative reforms were needed. Rep. Cummings introduced the Coast Guard Acquisition Reform Act of 2009, which later became part of the larger Coast Guard Authorization Act of 2010, signed into law on October 15, 2010 by President Obama. That bipartisan bill addressed multiple shortcomings in the Coast Guard's procedures for managing large acquisition programs.
In addition to the Deepwater inquiry, Rep. Cummings led other notable oversight investigations while chairing the Coast Guard and Maritime Subcommittee. They included inquiries into search and rescue failures, low employee morale and lack of leadership at the Federal Maritime Commission, marine safety program problems, and a troubling lack of diversity at the Coast Guard Academy. As happened at the Oversight Committee, Rep. Cummings became known for his bipartisanship, integrity, and hard work to improve Coast Guard programs.
In 2020, shortly after his death, the House passed the Elijah E. Cummings Coast Guard Authorization Act. Representative Peter DeFazio of Oregon, chair of the Committee on Transportation and Infrastructure at the time, said:
[1] Oversight committee approves first subpoenas of the 116th Congress – and they are bipartisan. (2019, February 26). House Committee on Oversight and Reform.
[2] Cummings issues statement on Benghazi hearing. (2013, May 8). House Committee on Oversight and Reform.
[3] Cummings to Issa: Stop partisan political feud over Operation Fast and Furious. (2012, April 27). House Committee on Oversight and Reform.
[4] Compliance with requirements of the Coast Guard's Deepwater contract: Hearing before the U.S. House of Representatives Committee on Transportation and Infrastructure, 110th Cong. (2007). https://www.c-span.org/video/?197664-1/coast-guard-fleet-modernization
[5] Compliance with requirements of the Coast Guard's Deepwater contract (2007).
[6] Committee leaders applaud House passage of the Coast Guard Authorization Act of 2020. (2020, July, 21). The House Committee on Transportation & Infrastructure.
[7] Bravender, R. (2020, February 28). Cummings honored with first U.S. Capitol room named for black lawmaker. Maryland Matters. https://www.marylandmatters.org/2020/02/28/cummings-honored-with-first-u-s-capitol-room-named-for-black-lawmaker/
Watch our panel discussion on Rep. Elijah Cumming's Portrait in Oversight